Episode 21.5 - Body Snatching!
A Halloween Historical Spooktacular!
3 years ago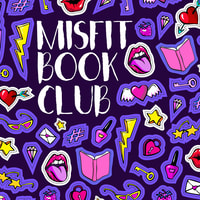 Yes, we know...you're still waiting for the Valley of the Dolls discussion. We promise it's on its way, but for now—here's a consolation prize! Maria originally recorded this as an episode for another podcast that never made it to air, so now we're sharing it with you just in time for Halloween.
You've heard of body snatchers before, but did you know they were real? Get a quick history lesson from Maria herself about bodies getting dug up and sold for money. It's icky, gruesome, and just a little bit murdery.
Enjoy, and we'll be back to our regularly scheduled programming in just a few weeks! Happy Halloween!
Got feedback? Wanna recommend a book for us to read? Let us know!
Instagram: @MisfitBookClub Twitter: @MisfitBookClub
Facebook: Misfit Book Club Podcast Goodreads: Misfit Book Club Podcast Email: misfitbookclubpodcast AT gmail DOT com
Find out more on the Misfit Book Club website.