Episode 7 - Too Fat, Too Slutty, Too Loud (Part 1)
Feminism and celebrities and hysteria, oh my!
3 years ago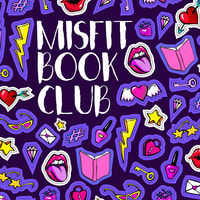 Guys, grab your "Nasty Woman" shirts and dig out that pussy hat...because this month's read is Too Fat, Too Slutty, Too Loud by Anne Helen Petersen!
We kick off this episode with some hot book news and a Jurassic Park wrap-up. Then we move on and give you the skinny on Anne Helen Petersen, the book, and what you can expect from a manifesto on unruly celebrity women. (We love Anne Helen, so we are super excited about this read. Prepare for some serious fangirling.)
We think this is going to be great read for everyone (including you, our fearless male Misfits)! And even if you haven't picked the book up yet, you're still gonna love this episode. It has a little of everything: ice cream metaphors, wandering uteri, Gwyneth Paltrow confusion, and some serious grad school truth. And, as always, the first episode on any book we read is spoiler-free!
EPISODE SHOUT-OUTS TO THESE AWESOME MISFITS.
@georgieandherbooks (Instagram)
@799Books (Twitter)
@ARHForester (Twitter)
Go give 'em a follow! You won't be sorry.
You got feedback for us? We wanna hear it! Here's where you can find us:
Instagram: @misfitbookclub
Twitter: @misfitbookclub
Goodreads: Misfit Book Club Podcast
Facebook: Misfit Book Club Podcast
Email: misfitbookclubpodcast AT gmail DOT com
P.S: Because of the book title, we decided to go ahead and put an "Explicit" tag on this episode. We got your back.
Find out more on the Misfit Book Club website.